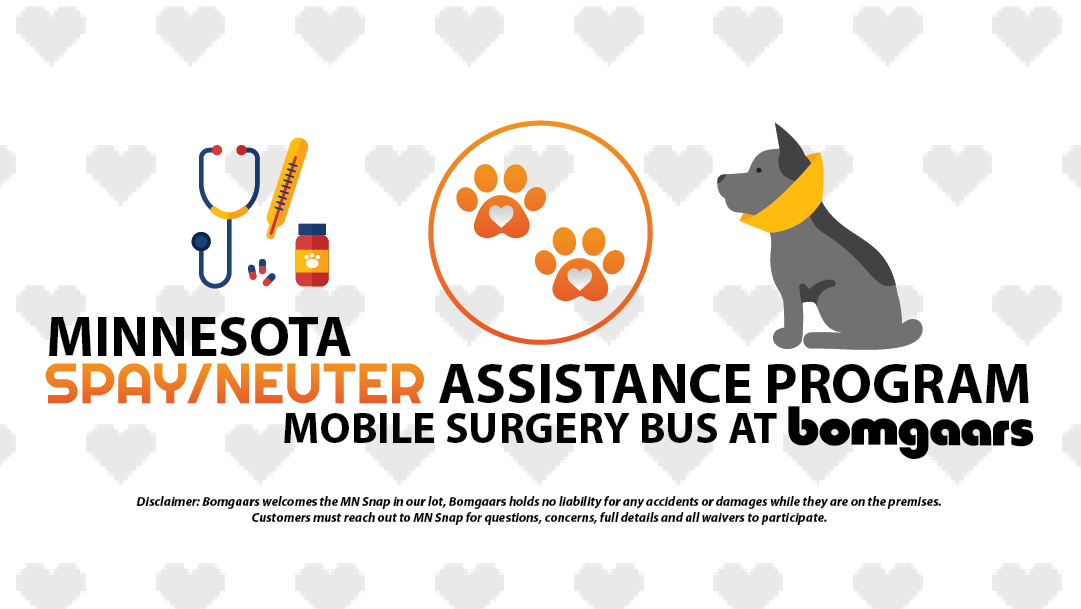 MN SNAP to be at Mankato Bomgaars
(Minnesota Spray Neuter Assistance Program)
MN SNAP will be hosting clinics for low cost Spaying and Neutering of your pets at the Mankato Bomgaars in their mobile surgery bus. If you are interested you must go to their website and SIGN UP for an appointment at http://mnsnap.org.
Disclaimer: Bomgaars welcomes the MN SNAP in our lot but holds no liability for any accidents or damages while they are on the premises. Customers must reach out to MN SNAP for questions, concerns, full details and all waivers to participate.
The dates they will be here are as follows:
May 10th, 2022: 8 AM - 7 PM
June 25th, 2022: 8 AM- 7 PM
August 6th, 2022: 8 AM - 7 PM
September 29th, 2022: 8 AM - 7 PM
October 31st, 2022: 8 AM - 7 PM
Our mission is to end the suffering and death of Minnesota cats and dogs to overpopulation by providing both high-quality, affordable and accessible spay and neuter services to those in need, and animal welfare education in the communities we serve.
MN SNAP's mission is simple and effective in reducing pet overpopulation. Our work reduces the influx of homeless pets into rescues and shelters, preventing suffering and death. Our vision is also simple: no cats or dogs suffer or are needlessly euthanized due to pet overpopulation in Minnesota.
MN SNAP has completed more than 172,297 low-cost surgeries since April 2010. Using conservation litter estimates for the female pets we've sterilized, MN SNAP's work has prevented the birth of more than 5 million unwanted cats and dogs!